Why Us
We are an ISO 22000:2005 and HACCP certified company. Our food, hygiene and quality standards set up a new benchmark in the Industry.
HSE (Health, Safety and Environment) is our most important operational priority in which:
Strict Standard Operating Procedures for cleanliness are followed
We conduct regular training of employees
Regular Audits and Visits are conducted
Specification Manuals (Purchase and Food Safety) are available at sites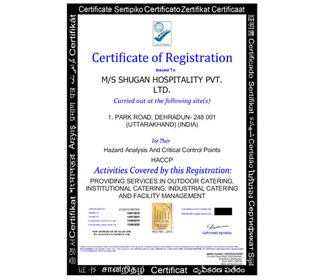 ---
Other HACCP certified procedures that we follow are:
Proper Raw Material Storage
Temperature Control
Food Sampling
Waste Segregation
Employees' Health and Hygiene
Safe Food Handling
Ingredient and Product Temperature Management
Pest Control Standards
Prevention of Cross Contamination
Food Safety Guidelines given by FSSAI (Food Safety and Standard Authority of India)
---
Our SOP's
Site Manager's Daily Walk through
Daily Checklists are filled up every day by the Site Manager at the beginning of his/her duty hours. All site areas are thoroughly checked and remedied immediately, if required. Proximate actions are taken against non-complainant issues and are logged in the checklist.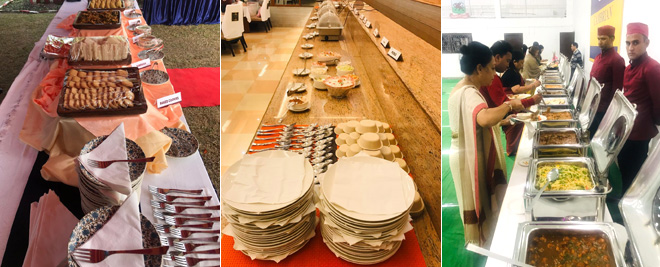 Daily Food Testing
This is ensured that the quality & appeal of the food served to the customer is in line with contractual requirements & SHPL standards. This SOP is in the form of a food testing record & the Chef writes significant remarks noticed during the food testing techniques on a daily basis.
Pre-Food Service Setup
Certain actions are taken on a daily basis before beginning of any meal service at the site. This ensures that standard procedures, service styles, area set- up, merchandising and controls are in line with SHPL standards. Hygiene is a chief concern to SHPL. This process refers to filling up of a comprehensive checklist on a fortnightly basis to ensure proper hygiene & protection in different areas at the site. QSHSE department is liable to monitor the contents & relevance of the checklist.
Daily Staff Briefing
Through proper briefing session's team is updated on a daily basis about events, important visitors, changes in scope, procedures related to their task or work-place. All key points, information, queries & notes are prepared & documented in the format for future reference.
Meetings
Inter-departmental meetings are conducted once a week & staff meetings are performed once a month where the status on action plans and issues are discussed & addressed. At the end of the meeting action plans & responsibilities are agreed upon and communicated to the entire management.
---